Leveling Swabbies
Swabbies' stats increases upon level up. Therefore, it is necessary level them up as well to bolster your fleet further. 
To level up a swabbie:
1. Select the swabbie you want to level up at the "Swabbie Management" in the "Pirate's Quarters".
2. Once selected, a menu will appear at the bottom. Tap on the "Level Up" button.
3. A confirmation will appear, indicating the amount of Grog required to level up the swabbie. Tap on the Grog amount to complete the process.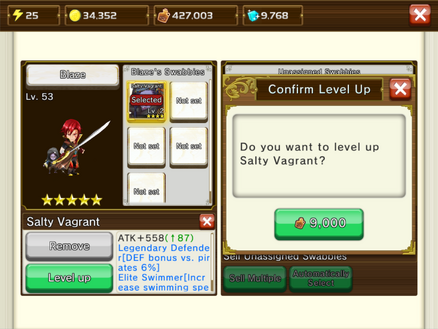 | Swabbie rating | Swabbie Level 2 | Swabbie Level 3 | Swabbie Level 4 | Swabbie Level 5 | Swabbie Level 6 | Swabbie Level 7 | Total accumulated cost |
| --- | --- | --- | --- | --- | --- | --- | --- |
| 1 Star Swabbie | 1,000 | 3,000 | 15,000 | 30,000 | 50,000 | 80,000 | 179,000 |
| 2 Star Swabbie | 1,200 | 3,600 | 18,000 | 36,000 | 60,000 | 96,000 | 214,800 |
| 3 Star Swabbie | 2,000 | 6,000 | 30,000 | 60,000 | 100,000 | 160,000 | 358,000 |
| 4 Star Swabbie | 3,000 | 9,000 | 45,000 | 90,000 | 150,000 | 240,000 | 537,000 |
| 5 Star Swabbie | 4,000 | 12,000 | 60,000 | 120,000 | 200,000 | 320,000 | 716,000 |