Argo Tavern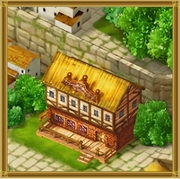 Description
In the Tavern you can recruit various pirates, swabbies and strengthening items using various means. There's the Recruit system which requires Gems, Scouting which requires Grog or Wanted Posters and using Pirate Points. Scouting will be accessible by clearing the story quests 1-4.
A gathering place for world-famous Pirates, always filled with fighting and laughter. You can use Gems or Grog to recruit new Pirates and Swabbies, upgrade the tavern for a wider selection.
Effect: Increase Scouting lineup count.
Level 1
8
Level 6
13
Level 2
9
Level 7
14
Level 3
10
Level 8
15
Level 4
11
Level 9
16
Level 5
12
Level 10
17
Premium Recruit
Obtain Pirates by using Gems. You can check the current lineup of Pirates for that Recruit by tapping on the "Details" button.
Normal Recruit
Use Pirate Points to obtain Wanted Posters and strengthening items. You can also use 10,000 points to buy a Pirate in the Normal recruit. Also, you can get Pirate Points from friends or guests that supported you in battle, or by dismissing Swabbies.
Scouting
Just have the sufficient amount of Gems, Food and Wanted Posters and you may recruit Pirates, as well as valuable Swabbies and strengthening items. Scouting Lineup Refresh Time is indicated on the upper right section of your screen. You can also immediately reset the lineup by consuming gems on the "Reset" button on the upper left section.